Sign up for the guided tour and don't miss out any highlight exhibitors!
【KOLs Show You The Trend】
"2022 Taipei AMPA & Autotronics Taipei"will hold the onsite KOLs guided tours from April 20th to 23rd !
Taking you to explore for each exhibition area, and having better insights for the latest trends. Leading by the Chief Editor of TCar.TV and the Mr. Calvin Lee from XEV Academy.
※ Application available till April 19th , filling in the online form to participate.
※ There is a maximum of 20 people for each guided tour.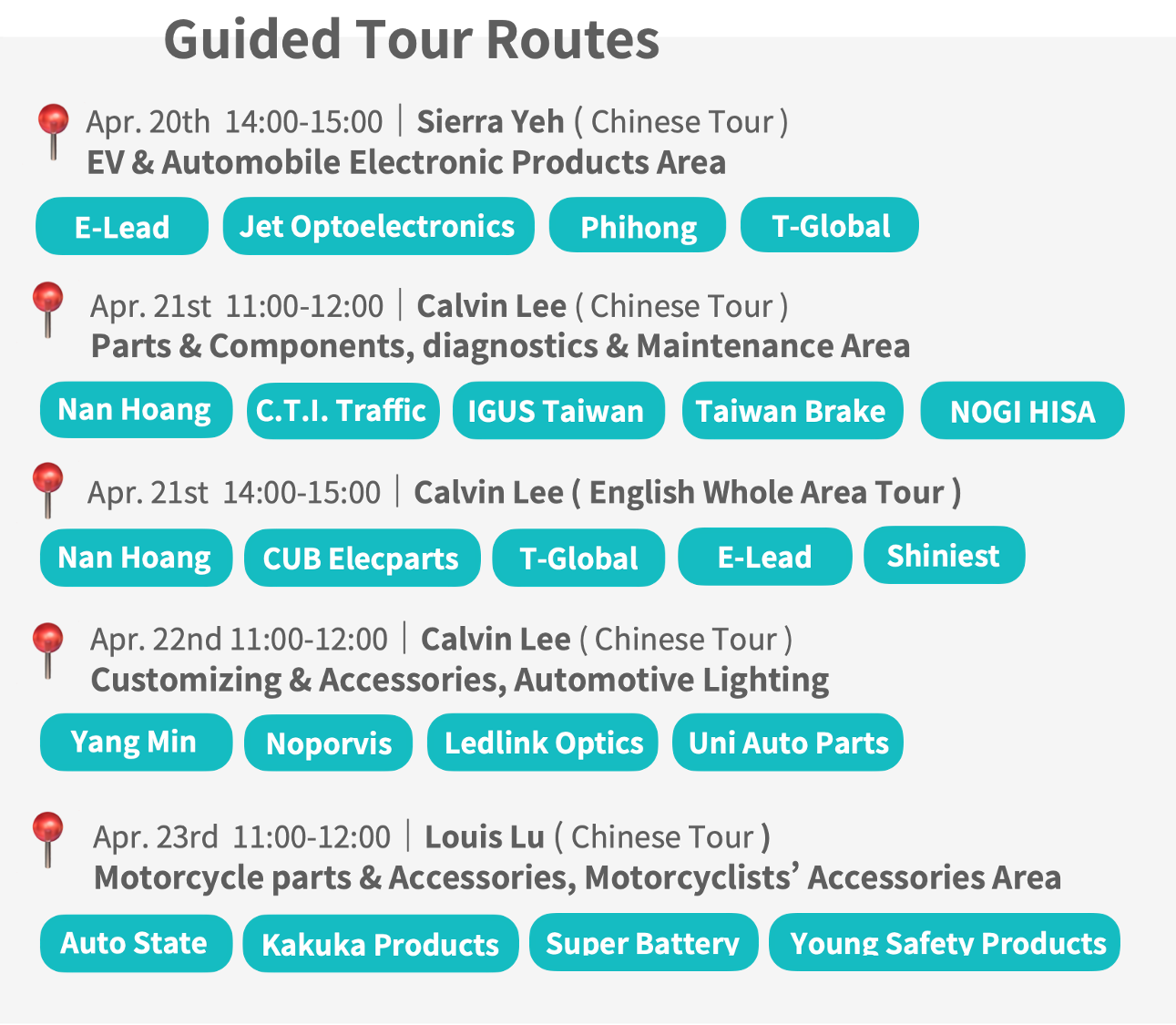 K Section Stage Area, 15 minutes before each route started.
Application through online(https://events.taiwantrade.com/2022TaipeiAMPA/)
and onsite at K Section Stage Area.
※ Application for each route opens till 1 hour before started.
Calvin Lee

Sierra Yeh

Louis Lu


About

Clavin dedicate to electric vehicle domain because of his multi-displine background and interests, and interact with traditional auto-part manufacturers, indy mechanics and consumers actively. And through his personal website and workshops, demonstrating his enthusiasm and keen viewpoint toward EV industry.




About

Sierra has a lot of passion and interested of automotive when he was 3. For the reason he was put in heart and soul to vehicle maintenance practices and works in Automotive media for 23 years. He studied all about the automotive, like principles、mechanics and history of various car factories for many years, and has incisive and unique insights into vehicles. With the deep knowledge of automobiles, not only are they familiar with the introduction of vehicles, but they can also analyze market strategies with car manufacturers. Cars have become an inextricable hobby, a true car enthusiast.

About

Started DIY and research on bike modifications with fellow modified bike lovers, ever since then Louis has been non-stop improving the relevant knowledge, and join the Automotive Media writing about new cars and test-drive articles. He hopes that through his words, readers can feel the rhythm between the lines and have a completely immersive and realistic experience of racing in the mountains and leaning on track. Work covers from two-wheelers to four-wheelers, through the combination of sound and image of video clips visualizing the driving experience, plus his humor and easily-understood way of decoding the vehicle characteristics. Louis wishes to lead audiences to explore and enjoy the amazing world of two-wheelers and four-wheelers.

Credentials

Speaker of EV related seminars in 2020~2022

Hosting instructor of EV related workshops in 2020~2022

Hosting instructor of computer programming workshops in 2020~2022

MS Electrical Automotive Engineering, Coventry University, UK, 2019

MS Computer Science, Texas A&M University, USA, 1991

MS Oceanography in Physics, National Taiwan University, 1986

COO, LIPS Corporation, Taiwan

VP Engineering, SNS+, Taiwan

VP Technology Operation, Interchan, Taiwan

Manager/Software Architect/Sr. Software Engineer, USA-Ireland-Japan (~16 years)

Associate Researcher, MIRL, ITRI, Taiwan

Credentials

Vice President of Taiwan Motor

23 years of test driving experience

The richest supercar driving experience in Taiwan

FIA ITC-C Grade International Race License

Found TCar.tv in 2015

Judge of China Car of the year 2015~2022

Judge of Taiwan Car of the year

Frequent guest on 45/56/57 channel TV show

Credentials

Editor of Moto7

Editor of TCar